IPHA Annual Conference 2021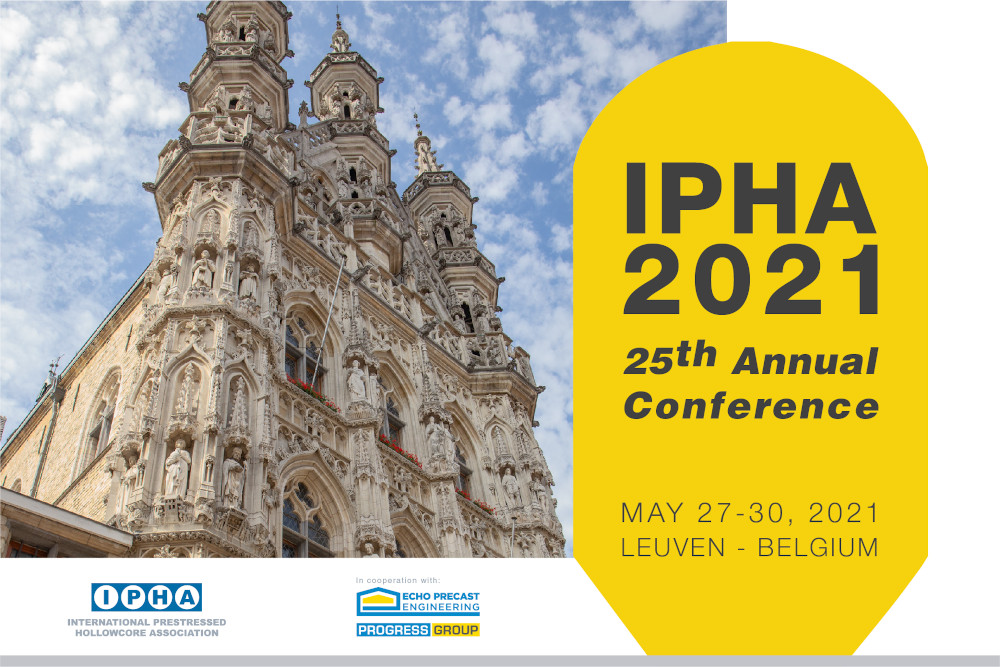 The 25th Annual IPHA Conference, from May 27th to May 30th 2021, will be held in the historical city of Leuven, 25 km from Brussels. Leuven houses the oldest Catholic University in the world, founded in 1425.
Echo Precast Engineering will host the event.
It is the best opportunity we will have to be together again to share and grow.
Topic
The theme of the conference is: WHY HOLLOWCORE?
Recent themes at the annual conferences have dealt with ways of surviving recession and methods of dealing with difficulties, but also about how we could energize to seek larger market shares, greater profits, healthier workforces, better quality, improved environment and satisfied customers.
At the conference we will move back to the basis of our businesses, HOLLOWCORE, and based on the booklet of Arnold Van Acker WHY HOLLOWCORE, we will discuss the advantages of hollowcore and how to make it evolve and succeed.
Agenda
The conference takes place at the Faculty Club in Leuven – the restored buildings of the Grand Beguinage. A historical quarter of downtown Leuven, UNESCO World Heritage in 2000.
There will be 3 presentations and a workshop to evaluate the advantages of hollowcore.
Furthermore, the programme includes a visit to a construction site in or around Leuven.
Other activities:
Welcome dinner on Thursday evening

Host Dinner on Friday evening

IPHA's General Assembly and Terry Treanor award on Saturday afternoon

IPHA Annual Dinner on Saturday evening
The partners' two-day programme includes a visit to 'Groot Begijnhof', a boat trip around Bruges, both days with delicious lunches and opportunities to go shopping.
Meet Our Speakers
We are happy to announce that the following external speakers have confirmed their participation:
Stef Maas
Structural engineer and Director at FEBE Belgian prefab concrete industry.
Topic: Hollow core floors – the floor of the future?
Richard Hellrigl
Electronic engineer and Managing Director at Progress Software Development GmbH
Topic: Behind the screen in Industry 4.0
Peter Hinssen
A serial entrepreneur, adviser, author and keynote speaker on the topics of radical innovation and leadership
Topic: How to become a Phoenix: how corporates can reinvent themselves for the Never Normal world
Why attend?
Networking
The IPHA Annual Conference brings together the people and companies redefining the global precast concrete industry. Experts from the hollowcore industry will come together to share ideas with others in your field. Meet your future business partner or seek advice from people who've done it all before.
Learning and development
The IPHA Conference attracts a diverse list of world-class speakers and facilitates content that inspires and empowers attendees. In our current climate, upskilling has never been more important. From the IPHA Conference's educational content and workshops to interchange roundtables, you will bring valuable skills back to your office.
Lead generation
We live in uncertain times for tech and business. At IPHA Conferences, we welcome the people tackling the biggest challenges facing the industry today. IPHA members are open to improving and growing their business. In four days, you will make new contacts and collect solid leads that convert into valuable future business relationships.
Why Leuven?
Leuven has been an innovative city of knowledge for centuries. The historic city center's beautiful monuments and rich heritage are a great showcase, as are the modern, urban renewal projects. Culture and creativity reign.
It hosts KU Leuven, the oldest university in the country and the IMEC – a world-class research center in the field of nano-electronics and digital technologies.
Moreover, Leuven is home to Stella Artois, a hot spot for beer buffs and gourmet. Plus, it's a shopping paradise for demanding shoppers. In short, Leuven has all the advantages of a big city in a charming setting with a small-town feel.
It lies right in the center of Belgium, about 30 km to the east of Brussels, 14 min by train or 20 mins by bus from Brussels Airport.
Registration
Members have received their invitations with the registration form by email. You can print and fill the registration form or fill it online by clicking the button below.