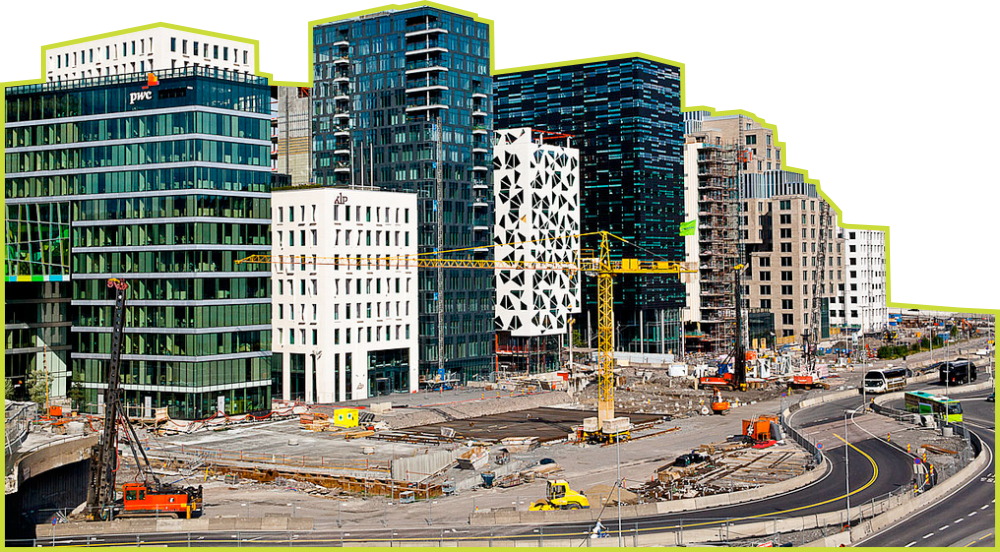 Barcode Rises with Hollowcore
Barcode is the project name of a new business district emerging in the port area of Oslo, just between the Central station and the new Opera house. The name relates to the group of tall, slender buildings, erected close to each other on a line forming a "barcode". The project was developed by Dutch architects MVRDR in cooperation with the Norwegian architects DARK and A-lab.
Commercially the property developer has now renamed the project OperaKvarteret, and the buildings are becoming a prestigious top end business district with companies such as PriceWaterhouseCoopers, Deloitte, Visma and DNB ( Norway's largest bank ) among the tenants.
Construction started in 2005, will be finished by 2016 and will consist of twelve buildings. So far nine of the buildings have been completed and with the exception of one, all are constructed with the use of hollowcore floors.
Contiga, Norway's second largest prefabricator of structures in steel and concrete, worked closely with the property developer in a very early stage to find the best structural systems. Contiga has delivered seven of these buildings, all with steel columns and beams, hollowcore floors and walls for lifts and staircases.
Hollowcore was chosen because of the long spans that give the office space great flexibility, speed of construction, a minimum of activities on site ( HSE aspects ) and all as a competitive alternative. As an example, the Visma building with 17 floors and 20.000 m² of hollowcore floors was erected in twenty weeks for the complete structural system. Altogether the eight office buildings with prefabricated structural systems consists of 150 000 m² of hollowcore floors and are excellent examples of the use of hollowcore for highrise, high quality office buildings. An excellent range of photographs and artistic impressions of OperaKvartet are available at www.skyscrapercity.com.
Contiga has extensive precast facilities in Norway, Sweden, Denmark and Germany, as well as a share of a steel fabrication company in Latvia. The company is owned 80% by KB Gruppen Kongsvinger AS and 20% by the senior management. Contiga is a particularly active member of IPHA.
Title
Barcode Business District, Oslo, Norway
Project Type
Office Buildings
Year
2016
Oslo, Norway.
Started 2005, scheduled for completion 2016.
8 high-rise office building using hollowcore floors.
7 buildings delivered by IPHA member, Contiga.
150,000 sqm of hollowcore flooring.